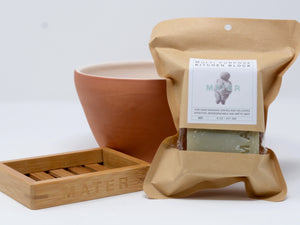 Mater
Mater Kitchen Block
Regular price
$17.50
$0.00
Unit price
per
Use this natural, effective, dish soap to scrub your plates, pots and glassware squeaky clean! Also, great for hand washing cloth delicates.
For dishes, glassware, pots, pans, countertops and cloth delicates.
Biodegradable, zero-waste, septic safe.
8 oz block / 3.5 X 2.25 X 2" in compostable packaging.
Comes with one Dish.
Pair it with our Mater Sponge, Luffa Pads or Agave Cloth.
Made with: coconut, olive and castor oils, lavender, cedar wood and eucalyptus essential oil for a very mild scent.
How to use: Place your dish soap on our draining soap dish, wet your sponge with water and lather up the block. Warm water for best results!
Kitchen block will last, if kept on a draining dish. Life span depends on use.
Mater Soap pays homage to utilitarian objects that quietly serve our daily lives. Sourcing inspiration from sculpture, architecture, and textiles, the Mater aesthetic pairs dynamic experience with simple and absolute function. Mater Soap chooses materials and composes recipes that speak to the well being of the bather as well as the planet. Our products are enriched by thoughtful and deliberate ingredients with a conscious effort to minimize ecological impact.
---