Blog: Postcards from Tulsa
• bags • daily life • everyday essentials • wardrobe essentials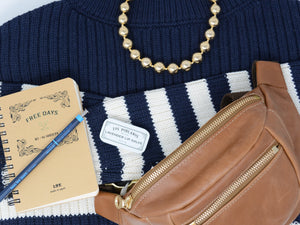 Whether running around town, navigating the work day, or weekend adventures, these timeless staples will become the go to pieces of your wardrobe. Pair this beauty with your favorite broken in jeans or high rise wide legs. •Emerson Fry cotton stripe sweater•Blackburn Leather Goods Fanny Pack•Abacus Row Gold necklace•Freedays notebook•Marks Tous Les Jours pen•Los Poblanos Lavender Lip Salve https://jenkinsandcotulsa.com/products/fanny-pack?_pos=1&_sid=2dd3cbbfd&_ss=r https://jenkinsandcotulsa.com/products/yuan-yuan-necklace?_pos=6&_sid=5de620164&_ss=r https://jenkinsandcotulsa.com/products/marks-daysofweekpen?_pos=3&_sid=97e851f7d&_ss=r   Pair these classics with a fabulous pleated wool pant or peg leg ponti. •Emerson Fry silk white blouse•Emerson Fry nutmeg alpaca sweater•Satomi Studio brass chain necklace•Satomi Studio brass stacking ring https://jenkinsandcotulsa.com/products/beratch-chain?_pos=6&_sid=5375e562c&_ss=r https://jenkinsandcotulsa.com/products/floret-stacking-ring?_pos=5&_sid=5375e562c&_ss=r   Pair this lovely with straight leg...
---
• Bags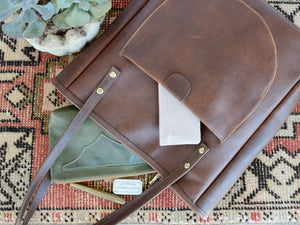 It's October 1st and that has us ready to embrace all things fall! Halloween decorations are going up around the neighborhood, planters are being filled with rustic colors, and autumnal hues are working their way into our wardrobe. Our favorite way to embrace the colors of fall in our everyday loos is with the incredible leather bags from Blackburn Goods.  Hand crafted here in Tulsa, Oklahoma by Emily Blackburn, these leather goods will quickly become your go to everyday items to keep you organized and polished. We use the Mini Go Bag as a makeup bag, purse organizer, travel case, and...
---
Add depth and warmth to your space by layering textures.  As the weather shows signs of changing it has us ready to refresh our surroundings with lush textures. Whether waffle cotton, hand spun wool, felted cotton, or lattice linen, these fabrics will add dimension and comfort to your home.  https://jenkinsandcotulsa.com/products/burt-cushion?_pos=1&_sid=f7c864f2c&_ss=r Giant down filled pillows instantly create the perfect lounge area whether on the bed or sofa. We love this neutral shade to mix in with existing favorites. https://jenkinsandcotulsa.com/products/akritithrow?_pos=3&_sid=b97f56e51&_ss=r One of our current favorite blankets in the shop right now is the beautiful Filling Spaces Tasseled throw in the most gorgeous shades...
---
• Jewelry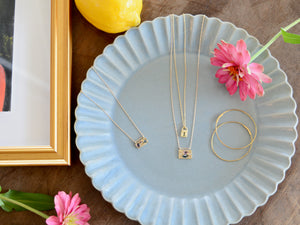 Our latest everyday obsession at the shop lately has to be layered jewelry.
---
• Bags • Books • Jewelry • Mother's Day Most Wanted • Soaps
As Mother's Day quickly approaches, the Jenkins and Co team has curated their top three most wanted for this Mother's Day. Lisa's Picks (owner) Lio and Linn Collage Necklace Coolness Book La Soufflerie Coup Glassware "It's difficult for me to pick because everything in the shop is my favorite! But right now, I'm loving the new Coolness book (the pictures are amazing and I need all the help I can get)!  I'm obsessed with Lio & Linn's collage necklaces- this one is no exception. And I look forward to any opportunity to celebrate and these fabulous handblown Coupe glasses from...