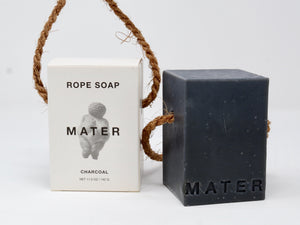 Mater
Charcoal Soap Roap
Regular price
$28.00
$0.00
Unit price
per
 Rope Soap is the solution to all your shower needs! Approximately 12 oz of all natural plant-ingredient soap, Rope Soap is made in small batches in our classic Charcoal variety with a natural coconut husk rope, allowing you to hang up your bar to dry, increasing its lifespan and freeing up your shower space.
One Rope Soap is the equivalent of about two and a half of our regular soap bars and it will last! 

Charcoal, true to its name, contains activated charcoal which absorbs toxins and impurities from the surface of the skin, while tea tree and eucalyptus essential oils imbue a refreshing afterglow.
Ingredients: Olive oil, water, coconut oil, lye, avocado oil, castor oil, mango seed butter, tea tree and eucalyptus essential oils, activated charcoal
Cold process soap • Handmade in NYC • No artificial ingredients, preservatives or fragrances • Cured for 4 weeks
Use: Face, Hands, Body
Weight: 12 oz.
Dimensions: 2.5" x 2.5" x 4"
Soaps are cut by hand, please allow for slight variation in size.
Handmade soap will last if kept dry between uses.
Mater Soap pays homage to utilitarian objects that quietly serve our daily lives. Sourcing inspiration from sculpture, architecture, and textiles, the Mater aesthetic pairs dynamic experience with simple and absolute function. Mater Soap chooses materials and composes recipes that speak to the well being of the bather as well as the planet. Our products are enriched by thoughtful and deliberate ingredients with a conscious effort to minimize ecological impact.
---