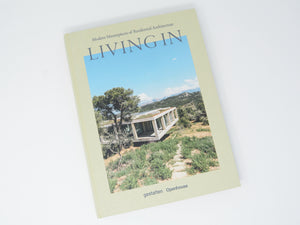 Gestalten
Living In
Regular price
$90.00
$0.00
Unit price
per
Openhouse has spent the last six years providing readers with a closer look at some of the most extraordinary houses around the globe. In their first book, the editors are opening their doors in order to share unseen favorites, with exclusive photography of rarely seen homes.
With a range of architectural styles from Brutalism to 20th-century mastery, from the likes of Walter Gropius and Ludwig Mies van der Rohe, this book portrays the stories of architects and residents of the most remarkable and inspiring living spaces around the world. Enter the adobe house of Georgia O'Keefe in New Mexico, step into the Modernist Casa Pedregal designed by Luis Barragán in Mexico City, and discover the sensorial architecture of George Nakashima's house, studio, and workshop in New Hope, Pennsylvania.
Living In describes what it feels like to occupy these spaces from the perspective of their owners—individuals who have themselves have become stewards of architectural history.
Openhouse is a biannual magazine that talks about art, design, architecture, and culture. We visit beautiful homes across the world and the people who live in them. A guide of creative people who share their philosophy of life with us, based on the conservation of values like tradition, nature, art, and identity.
This book has been printed in Belgium.
FSC™️ (Forest Stewardship Council™️) Certified.
---