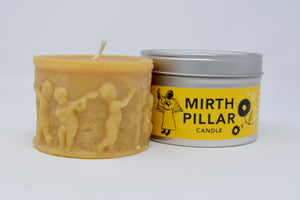 Alysia Mazzella
Mirth Pillar
Regular price
$34.00
$0.00
Unit price
per
The beauty of being and the gift of time. The Mirth Pillar is a standalone candle that features embossed imagery of angelic children (also known as putti) whom represent high spirits, inner peace, and leisure. Play, story tell, sing, dance! Harvest the fruits of life. This candle uses our original candle mold. 40-hour burn time, approx.
3x2.25", comes in a reusable tin.
Ideal to light and relight over many hours at a time. Mirth Pillars must be burned for a minimum of 3-hours during each lighting, or can alternatively be burned for several hours. Allow the wax pool to expand to the outer edge of the candle before extinguishing the flame. Hug your candle after each use by gently bending the outer wax towards the wax pool. All stand-alone pillar candles require hugging to minimize leftover wax. Only burn Mirth Pillars on a designated pillar holder.
Handmade in upstate New York using sustainably sourced, fresh, local beeswax. Slight variations will occur.
---