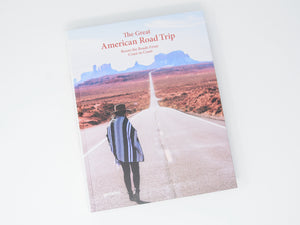 Gestalten
The Great American Road Trip
Regular price
$60.00
$0.00
Unit price
per
When it comes to the great outdoors, the USA has it all: wild mountains, vast prairies, barren deserts, tropical forests and other worldly canyons. And there is no better way to explore them than that all-American activity: the road trip.
The Great American Road Trip provides a new appreciation of this grand tradition. Leading beyond magnificent landscapes and seeking out history, culture, food, and people; Retrace the Underground Railroad, follow the Blues Highway, go on a pilgrimage to the best lobster shacks. The Great American Road Trip encourages readers to start an adventure of their own. So what are you waiting for? The road awaits...
Aether (pronounced "Ē-ther") was born in 2009, when founders Palmer West and Jonah Smith created something they couldn't find. Aether satisfies the desire for a men's collection that looks at home in the city, but is built to withstand the outdoors.
Laura Austin is a photographer with wanderlust coursing through her veins. Having grown up in small town Colorado and Vermont, she is now based in Los Angeles.
---