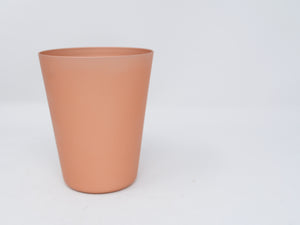 Utilitario Mexicano
Tumbler M12/Copper
Regular price
$38.50
$0.00
Unit price
per
The appeal of the aluminum cups goes beyond their function as containers. These treasures of durability and resilience, revived by the Utilitario Mexicano, are the rescue of a forgotten tradition. Forged through a handcrafted process on a lathe, where skilled hands shape the aluminum to form these cups that resemble more of sculptures. Departing from mass production, each one of them is a unique masterpiece, with slight variations and marks of the creation process that embody the essence of traditional craftsmanship and the value of handmade objects.

The longevity of the aluminum cups is a commendable quality in a world obsessed with the ephemeral and disposable. Resistant to impacts and scratches, the aluminum cups become lifelong companions, a perfect choice for those seeking a sustainable and authentic consumption experience. In the Utilitario Mexicano, we find the rescue of this iconic object and its rebirth as a true gem of Mexican culture.
Utilitario Mexicano exclusive. Handmade in Mexico. 
Material: Anodized aluminum.  
100% recyclable. 
Cap. Max: 640 ml. / 21.6 oz.
Size: 9.7 x 12.5 cm. / 73 g. 
---