• Bags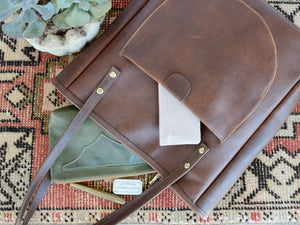 It's October 1st and that has us ready to embrace all things fall! Halloween decorations are going up around the neighborhood, planters are being filled with rustic colors, and autumnal hues are working their way into our wardrobe. Our favorite way to embrace the colors of fall in our everyday loos is with the incredible leather bags from Blackburn Goods.  Hand crafted here in Tulsa, Oklahoma by Emily Blackburn, these leather goods will quickly become your go to everyday items to keep you organized and polished. We use the Mini Go Bag as a makeup bag, purse organizer, travel case, and...
---
• Bags • Books • Jewelry • Mother's Day Most Wanted • Soaps
As Mother's Day quickly approaches, the Jenkins and Co team has curated their top three most wanted for this Mother's Day. Lisa's Picks (owner) Lio and Linn Collage Necklace Coolness Book La Soufflerie Coup Glassware "It's difficult for me to pick because everything in the shop is my favorite! But right now, I'm loving the new Coolness book (the pictures are amazing and I need all the help I can get)!  I'm obsessed with Lio & Linn's collage necklaces- this one is no exception. And I look forward to any opportunity to celebrate and these fabulous handblown Coupe glasses from...